"Yes!" in the shelves
I love love almost as much as I love libraries. While I still worked as a librarian, I used to take some strides throughout the building and often saw love pouring in silence. Once a young man surprised his girlfriend with roses. Couples would always lay together under tree shades in the gardens. Others would catch the sunset in one of the balconies. It almost seemed that love was a library service.
No surprise some people choose to have libraries as the ideal scenery for their commitment. From marriage proposals to actual wedding receptions, libraries are ranked top in many brides and wedding planners sites. Whether you are a librarian or just a book person, this post might fill your craving for library love.
"Will you borrow me?" was not the exact question that came out of Stephen Mann when he got down on his knee in one of the balconies at the magnificent rotunda of the Stockholm City Public Library. He met there with his then girlfriend Diana C. Nearhos, a journalist and books lover, for sightseeing but Stephen then came up with the happy proposal. Diana certainly treasures that moment as one of the dearest in her life. The couple got married last summer.
Creative writing can also be the fuel for a long lasting love. That seemed to be in Jason Methner's mind when he came up with the idea of writing a picture book to propose to Molly Lipsitz, his girlfriend. The couple was visiting the Thomas Hughes Children's Library in one of the branches of the Chicago Public Library. Lipsitz took the book titled A Hare-y Tale where Bunny and a Tortoise depict the couple's 4 year relationship. The book ends with the marrying proposal to which Lipsitz said "Yes!". A concealed photographer captured the reaction and the staff at the library contributed by arranging the books so she could find the exact one among the new arrivals. Sweet!
Don't hesitate to choose a library for your proposal. If you are a regular, you might get help from library staff. If you decide to go solo, that will be one of the most intimate experiences you can have at a library.
Weddings have been an important topic for Boston Public Library. As many other public libraries, they have allowed photographs and rental of their spaces for ceremonies. In 2017, the Boston Public Library organized the first ever wedding ceremony giveaway for their community. By submitting an application followed by an online lottery, 5 couples got the chance to celebrate their special day in the Italianate courtyard at the Central Library in Copley Square. Catering, photography and music were among the services featured in this amazing offer.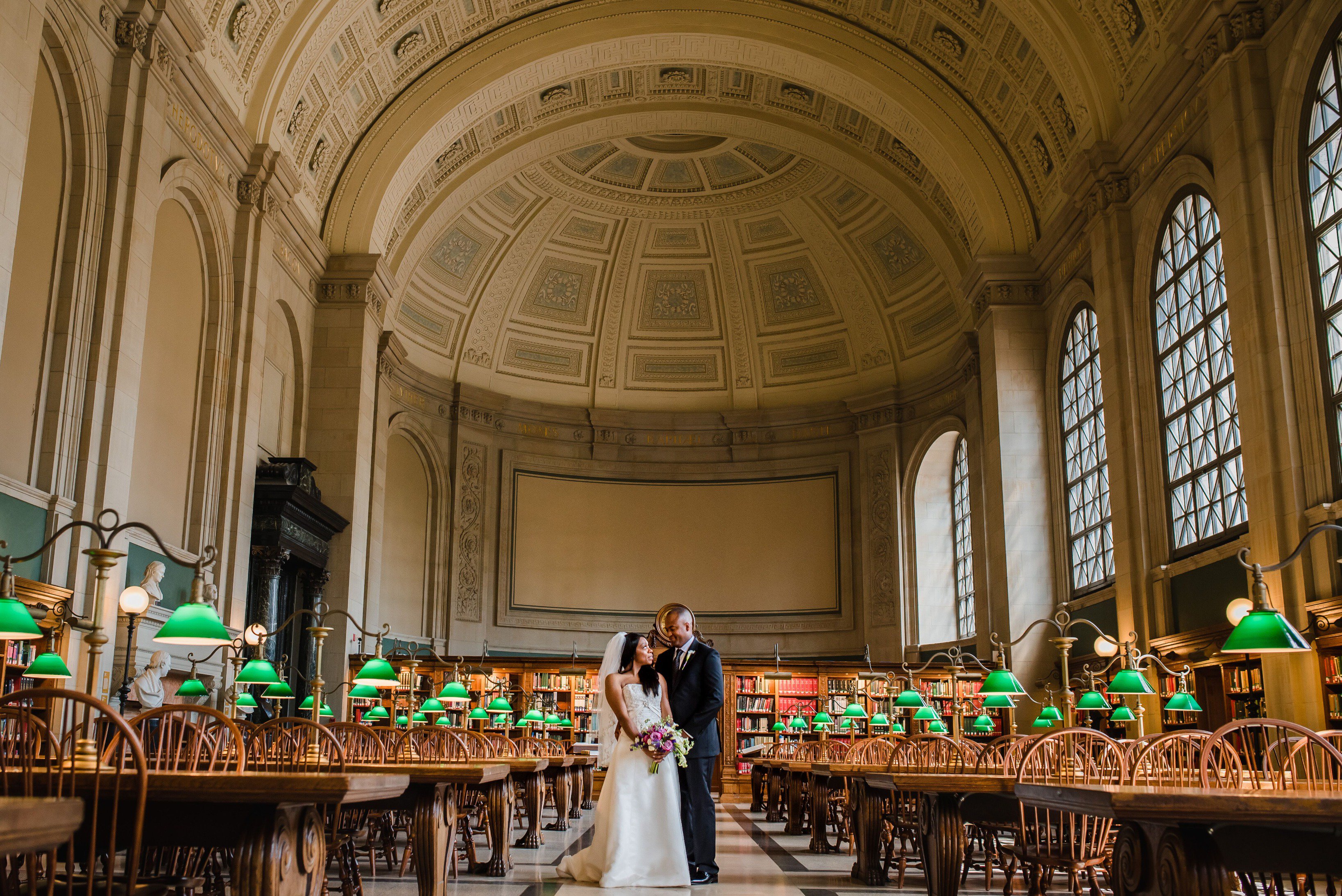 The successful initiative was repeated in 2019 for 4 lucky couples that got married February 2nd, 2020, this time inside the historic Abbey Room. Can you imagine? I bet saying yes to your significant other in such a beautiful scenery makes it for a long lasting memory.
Last year, the library had a special offer for couples that had to cancel their weddings because of Covid-19. The Special Events department put together wedding picnics for small groups of people, limited to 1.5 hour stay and pictures at the McKim Lobby Grand Staircase. A creative stance for one of the best wedding venues in America.
The role of this library in tying the knot is not restricted to their physical locations. Dhruti Bhagat, Web Services Librarian, started in 2019 "The Thrifty Wedding" a blog post series about ways and tips for saving money on your big day. It covers from an efficient spend on flowers to planning your honeymoon and everything in between. With 12 posts so far, this librarian has been offering a great information service for couples.
If you can't resist having BPL as the setting of your reception or photographs, don't hesitate to reach out to the Special Events Office at events@bpl.org or 617.859.2212. It's almost a fact that your public library system also offers rental of their spaces for special events. You might find that information on their website or visiting the information desk. Keep in mind that when you rent a space at a library, your fee goes directly to their needs, be it collection development, programs or services.